B3Networks Academy Updates
Dear B3Networks Valued Partners,
The year is about to end but our updates and new features are not. This time around we have brought some interesting improvements to our solution and we can't wait to share them with you.
Let's dive into these updates and see what's new.
License Model
OSS/BSS
App Model
LICENSE MODEL
Dashboard
The Dashboard has become a fun playground for Owners as we have provided a lot of customizability. This month we will give you more advanced tools to manage your dashboards. The custom dashboards now can contain one or more widgets (up to 6 widgets per page) that give you an overview of the dimensions and metrics you care about most.
Furthermore, you can also:
Select multiple widgets (All, Default, Custom) and more than what's given within the layout template. Each page can have up to 6 widgets, anything above the template will be moved to the next page.

Re-arrange widgets between pages.

Enable Autoscroll (30 secs) for the dashboard interface.
Organization Management
Can't find some of the sections in the Phone System's General Settings? Don't worry! We have made a few adjustments and moved some of the items to the Manage Organization page. Now you can locate and make changes to the Inbound and Outbound Call Rules with the Public Holiday settings within the Manage Organization tab.
Phone System
Remember the Organization Connect feature which allows you to connect your organizations with one another? We now have just launched a new feature that will help you decide which member of your organization can access the contacts of your connected organizations.
Communication Hub
1. Notes
We have added another tab to Communication Hub called Notes. The purpose of this page is to keep a report of all the responses of the agents based on the note templates that your queues have utilized.
Not only that, admins can export the report of the responses for reference purposes by simply pressing the download icon next to each note.
2. Voicemail
As you may know, previously, the Call Recording downloading permissions also affected the ability to access and download the Voicemail. Well, not anymore! The Call Recording permissions are now only applicable for the Call Recording. You will always be able to check your Voicemail on the Call History whenever you have it.
3. Call History - More explanation for Blocked and Failed calls
Many cases and scenarios can lead to failed or blocked calls, and we know you would like to know why. To give you a better understanding of why a call might fail or be blocked, we've added more reasons.be The two updated reasons include:
Reject anonymous calls (call status = Blocked): this reason will only happen if you reject receiving calls with a Private Caller ID.

Internal Call is not allowed (call status = Failed): this reason will happen if you have requested us to block Internal Calls within your organization.
4. Call History - Auto Attendant
For each of your Auto Attendant call transactions, you can now find more details within the Call Metadata of Call History. It will not only inform the name of the Auto Attendant Workflow Name but the Auto-Attendant Call Journey as well.


5. Users - Assigned Calls
What's new on the Users tab? Well, we have added the Assigned Calls page which contains detailed data for each interaction that takes place in your Inbound Contact Center. Since one call can be assigned to multiple agents and rung on multiple times at agents' devices until one of them picks up the call, therefore, all of that assignment calls will be listed here so that the Supervisors can have a full picture of how their agents are performing.
Contact Center


1. Queue Size & Wait Time


As you are already aware that within Queue Management, we have features that support defining the Queue Size and Wait Time, and what actions to be taken when reaching the max queue size and max wait time. Previously, we were supporting Voicemail and Callback actions. With our latest update, we have included Hang Up action as well. This hang-up option will come with a predefined message that you can include to inform callers.
2. Callback


Within Queue Management, we have included a Check for Number Validity feature for the Callback option. When offering a Callback, this check will filter out invalid numbers and only accept valid numbers according to your predefined number pattern.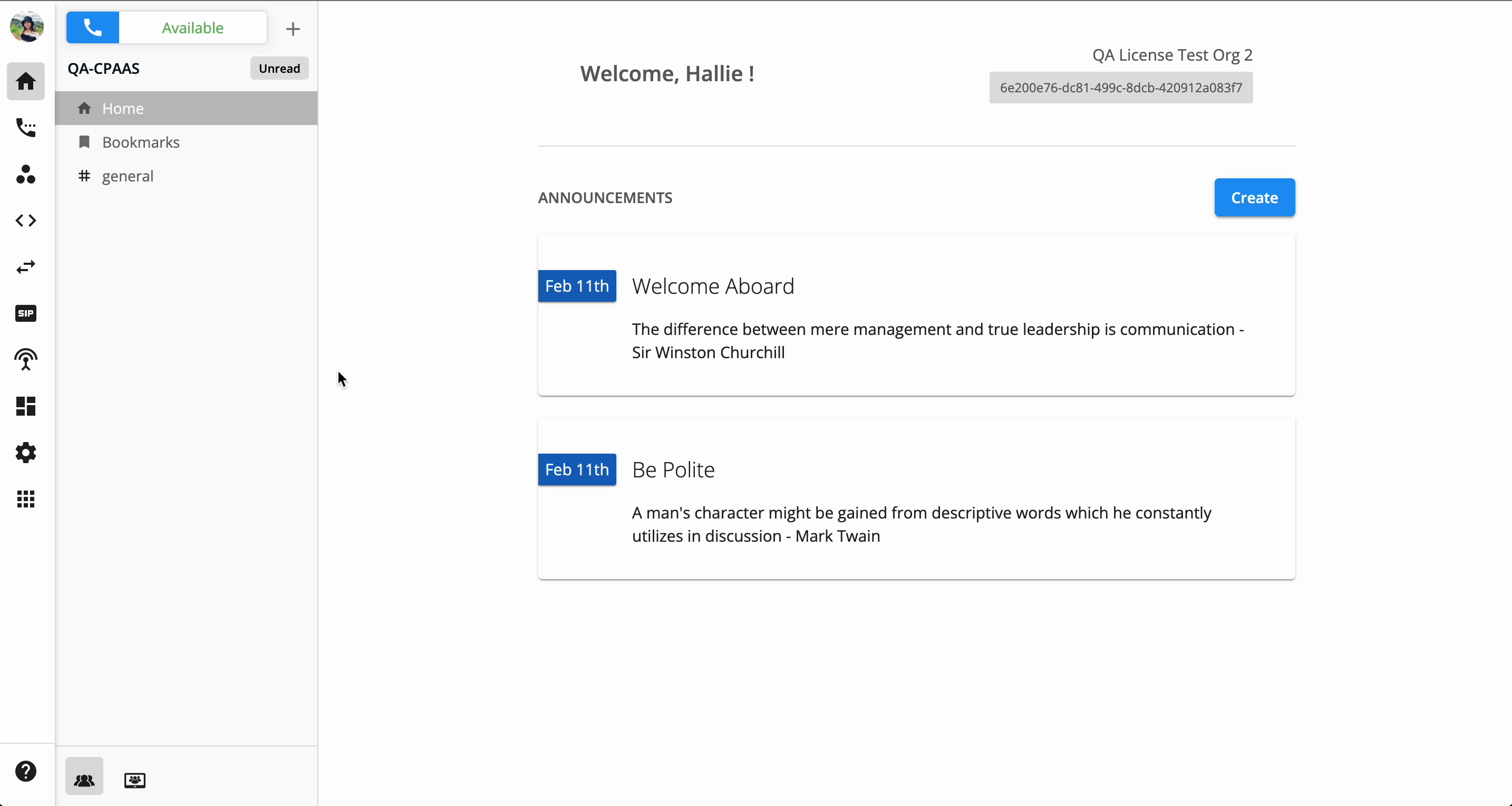 OSS/BSS
Customer App
We can't wait to share that our Remote Support function is active for use. Using this function, you will have the Super Admin role which can help you to log in to your customer accounts and attain the same privileges as the Account Owner. This can be done in the case when you want to check some info on your customer accounts that cannot be seen directly in the Customer app such as app configuration, subscription assignment, etc.
App Model
Direct Line App


We would like to inform you that from December 15th, 2022, we will end-of-life the Call History tab in the Direct Line app. But don't worry! You will still be able to check that in a different place.
In order to make the data easier to be kept track of, the call history of all your subscribed applications now will be centralized in the Call History tab on the Manage Organization page.